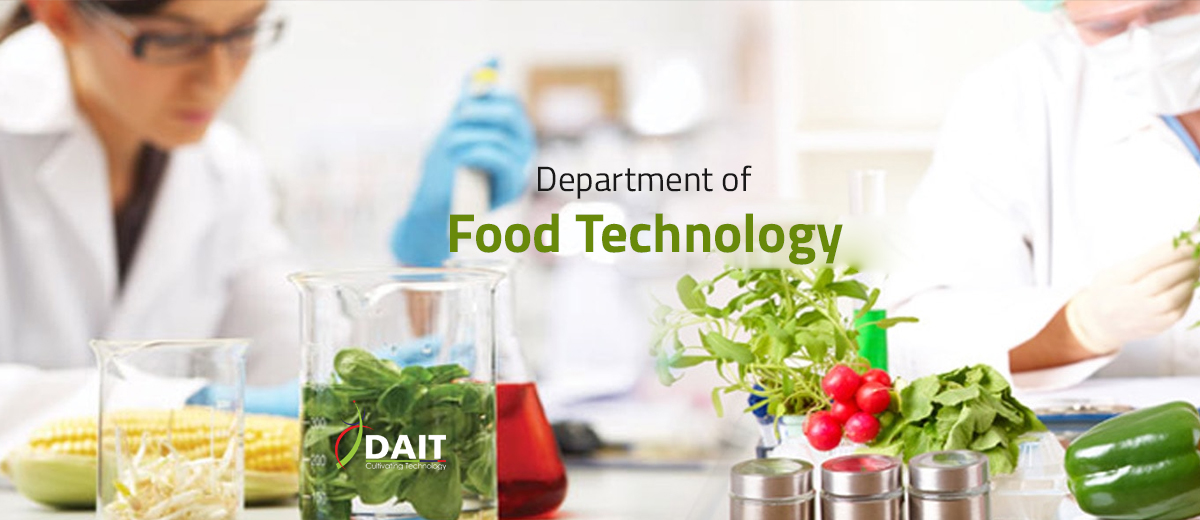 Food technology is a branch of Science & Technology that deals Food production, processing, preservation, packing, safety & security, quality management, and distribution of food products.
Food Science and Technology Programme is designed to provide theoretical and practical exposure on the conversion of raw agricultural produce into processed, packaged, shelf-stable food products; on intermediate raw materials; on different aspects of food preservation; on establishment, maintenance and assurance of food quality; on design and maintenance of food process machines. The department further provides direct practical experience in food industries, food research laboratories/higher academic institutions and governmental agencies responsible for the formulation and enforcement of food laws; and also provides entrepreneurial skills that will make students self-reliant on graduation.
To produce competent technocrats, scientific & research scholars and entrepreneurs in the fields of Food Technology and Agricultural sector through Quality education.
To develop world class managerial talents coupled with advanced knowledge in Food science and technology.

To function as the knowledge repository to guide students on gradation for SME food processing clusters.
The Food Technology Department creates trained and skilled human resources to cater the needs of rapidly growing Food Processing Sector. The department is also intended to provide technical support to entrepreneurs and agricultural sectors to establish industries.
The curriculum has been framed in such a manner that by the time of completion of degree, the entrepreneur skill will already be developed and the students will be very fit to work in Research, Teaching and Other Food related Industries. Graduates in Food Technology have vast scope in Food Processing industries, research laboratories, soft drink factories, Quality Control sectors, Mills, Manufacturing units, and even in Central & State Government projects and Public sector undertakings like Food Corporation of India.
Name of the Association: FOODTECH
OBJECTIVES OF THE ASSOCIATION
Food technologists are responsible for the safe and efficient development, modification and manufacture of food products and processes.

Food technologists plan recipes and manage their production on a large scale.

Food Technologists mostly work for food manufacturing organisations and, depending on their specific role, may work in laboratories, offices or factories.