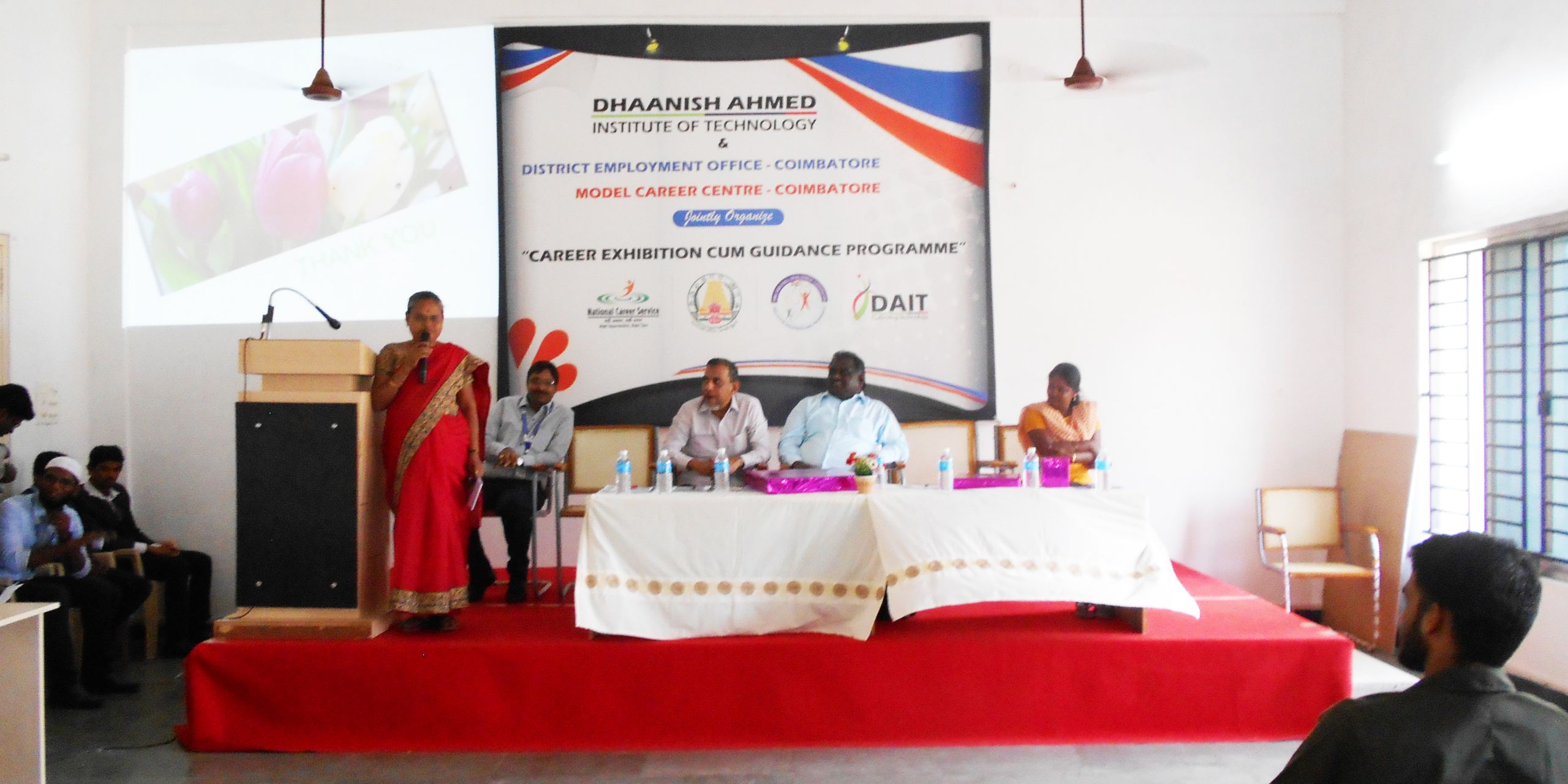 Dhaanish Ahmed Institute of Technology provides unique platform to equip students with the required knowledge and skill-sets through orientations, coaching mentoring and online platforms. thereby paving way to the right destination from various avenues of career prospects. The college frequently organize Career Guidance Programs inviting Guest Speakers for the students to make the right decision at the right time. We also guide our students to enroll in various Digital Learning Platforms to promote their career towards a right choice.
DIGITAL LEARNING PLATFORMS
SWAYAM PLATFORM
SWAYAM is a programme initiated by Government of India and designed to achieve the three cardinal principles of Education Policy viz., access, equity and quality. The objective of this effort is to take the best teaching learning resources to all, including the most disadvantaged. SWAYAM seeks to bridge the digital divide for students who have hitherto remained untouched by the digital revolution and have not been able to join the mainstream of the knowledge economy.
This is done through an indigenous developed IT platform that facilitates hosting of all the courses, taught in classrooms from 9th class till post-graduation to be accessed by anyone, anywhere at any time. All the courses are interactive, prepared by the best teachers in the country and are available, free of cost to the residents in India. More than 1,000 specially chosen faculty and teachers from across the Country have participated in preparing these courses.
The courses hosted on SWAYAM will be in 4 quadrants – (1) video lecture, (2) specially prepared reading material that can be downloaded/printed (3) self-assessment tests through tests and quizzes and (4) an online discussion forum for clearing the doubts. Steps have been taken to enrich the learning experience by using audio-video and multi-media and state of the art pedagogy / technology. In order to ensure best quality content are produced and delivered, seven National Coordinators have been appointed: They are NPTEL for engineering, UGC for post-graduation education, CEC for under-graduate education, NCERT & NIOS for school education, IGNOU for out of the school students and IIMB for management studies.
Courses delivered through SWAYAM are available free of cost to the learners, however students wanting certifications shall be registered, shall be offered a certificate on successful completion of the course, with a little fee. At the end of each course, there will be an assessment of the student through proctored examination and the marks/grades secured in this exam could be transferred to the academic record of the students. UGC has already issued the UGC (Credit Framework for online learning courses through SWAYAM) Regulation 2016 advising the Universities to identify courses where credits can be transferred on to the academic record of the students for courses done on SWAYAM.
www.swayam.gov.in
SWAYAM PRABHA
The SWAYAM PRABHA is a group of 32 DTH channels devoted to telecasting of high-quality educational programmes on 24X7 basis using the GSAT-15 satellite. Every day, there will be new content for at least (4) hours which would be repeated 5 more times in a day, allowing the students to choose the time of their convenience. The channels are uplinked from BISAG, Gandhinagar. The contents are provided by NPTEL, IITs, UGC, CEC, IGNOU, NCERT and NIOS. The INFLIBNET Centre maintains the web portal.
The DTH Channels shall cover the following:
Higher Education: Curriculum-based course contents at post-graduate and under-graduate level covering diverse disciplines such as arts, science, commerce, performing arts, social sciences and humanities, engineering, technology, law, medicine, agriculture, etc. All courses would be certification-ready in their detailed offering through SWAYAM, the platform being developed for offering MOOCs courses.
School education (9-12 levels): modules for teacher's training as well as teaching and learning aids for children of India to help them understand the subjects better and also help them in preparing for competitive examinations for admissions to professional degree programmes.
Curriculum-based courses that can meet the needs of life-long learners of Indian citizens in India and abroad.
Assist students (class 11th & 12th) prepare for competitive exams.
www.swayamprabha.gov.in

E-VIDWAN
VIDWAN is the premier database of profiles of scientists / researchers and other faculty members working at leading academic institutions and other R & D organisation involved in teaching and research in India. It provides important information about expert's background, contact address, experience, scholarly publications, skills and accomplishments, researcher identity, etc. The database developed and maintained by Information and Library Network Centre (INFLIBNET) with financial support from the National Mission on Education through ICT (NME-ICT). The database would be instrumental in selection of panels of experts for various committees, task-force, established by the Ministries / Govt. establishments for monitoring and evaluation purposes.
http://vidwan.inflibnet.ac.in
E-YANTRA
An initiative by IIT Bombay that aims to create the next generation of embedded systems engineers with a practical outlook to help provide practical solutions to some of the real world problems.
www.e-yantra.org
NATIONAL DIGITAL LIBRARY (NDL)
Ministry of Human Resource Development under its National Mission on Education through Information and Communication Technology has initiated the National Digital Library of India (NDL India) pilot project to develop a framework of virtual repository of learning resources with a single-window search facility. Filtered and federated searching is employed to facilitate focused searching so that learners can find out the right resources with least effort and in minimum time. NDL India is designed to hold content of any language and provides interface support for leading Indian languages (currently including researchers and life-long learners, all disciplines, all popular form of access devices and differently-abled learners. It is being developed to help students to prepare for entrance and competitive examination, to enable people to learn and prepare from best practices from all over the world and to facilitate researchers to perform inter-linked exploration from multiple sources. The Pilot project is devising a framework that is being scaled up with respect to content volume and diversity to serve all levels and disciplines of learners. It is being developed at IIT Kharagpur.
https://ndl.iitkgp.ac.in
E-SHODH SINDHU
Based on the recommendation of an Expert Committee, the MHRD has formed e-ShodhSindhu merging three consortia initiatives, namely UGC-INFONET Digital Library Consortium, NLIST and INDEST-AICTE Consortium.The e-ShodhSindhu will continue to provide current as well as archival access to more than 15,000 core and peer-reviewed journals and a number of bibliographic, citation and factual databases in different disciplines from a large number of publishers and aggregators to its member institutions including centrally-funded technical institutions, universities and colleges that are covered under 12(B) and 2(f) Sections of the UGC Act.
http://ess.inflibnet.ac.in
TALK TO TEACHER
The portal provides free access to a few selected graduate and postgraduates courses taught at IIT Bombay by distinguished faculty member and scholars.
The objective is
To reach out by sharing the expertise of distinguished IIT Bombay faculty members.
To provide quality engineering education for students and faculty of engineering institutions in the country.
To help working professionals update their knowledge.
To create resources to further critical thinking and intellectual exploration.
These courses can be viewed absolutely free of charge at lower bandwidths on a personal computer/laptop having a headphone though internet connection. Registration is not required as we do not have any evaluation / certification process. The courses are recorded live in the classrooms of IIT Bombay and may not reflect entire content of the course.
www.co-learn.in
SPOKEN TUTORIAL
The Spoken Tutorial project is the initiative of the 'Talk to a Teacher' activity of the National Mission on Education through Information and Communication Technology (ICT), launched by the Ministry of Human Resources and Development, Government of India. The use of spoken tutorials to popularize software development and its use will be coordinated through this website.
http://spoken-tutorial.org
FOSSEE
FOSSEE (Free and Open Source Software for Education) project is funded by the national mission on education through ICT, MHRD, Government of India. The FOSSEE team works on 'Adaptation and development of open source simulation packages equivalent to proprietary software', and is based at Indian Institute of Technology Bombay.
http://fossee.in
VIRTUAL LABS
Objectives of the Virtual Labs:
To provide remote-access to Labs in various disciplines of Science and Engineering. These Virtual Labs would cater to students at the undergraduate level, post graduate level as well as to research scholars.
To enthuse students to conduct experiments by arousing their curiosity. This would help them in learning basic and advanced concepts through remote experimentation.
To provide a complete Learning Management System around the Virtual Labs where the students can avail the various tools for learning, including additional web-resources, video-lectures, animated demonstrations and self evaluation.
To share costly equipment and resources, which are otherwise available to limited number of users due to constraints on time and geographical distances.
www.vlab.co.in