The Department of Artificial Intelligence and Data Science is fully equipped with high quality laboratories. As one of the best artificial intelligence colleges in Coimbatore, Our  Department consists of dedicated and highly qualified faculty members. The laboratories are updated with highly configured systems and recent Technological software, which enables them to provide quality education. Students are motivated to participate in competitive events, National and International Conferences that are conducted by various organisations and educational Institutions. Students also visit Industries to gain practical knowledge on application of the technologies they learn as part of their course curriculum. Our Department Staff and Students are members in various Associations. We conduct several Faculty Development Programs (FDP), Guest Lecturers and Symposium for the benefit of students and staff related to the subjects with the new and emerging concepts by the experts in that area. We are proud to say that we are one of the best artificial intelligence engineering colleges in Coimbatore.
As a leading artificial intelligence engineering college in Coimbatore, our vision is to be a Centre of excellence in the field of Artificial Intelligence and Data Science.
To provide a conducive learning environment for quality education in the field of AI & DS.

To pursue industry institute interaction and promote collaborative research activities.

To empower the students with ethical values and social responsibilities in their profession

To provide exposure to the latest software tools for research based projects/ activities.
The Artificial Intelligence & Data Science(AI&DS) program prepares for a wide range of engineering study and career options, including becoming an Data Scientist ,Business Analyst, Technology Officer, Data Analyst , Machine Learning Architect ,Artificial Intelligence Engineer ,Webmaster & Technocraft. There are also good opportunities in becoming Teaching Professionals, Research Scholars, etc in Government and Self Financing Institutions on completion of M.E./M.Tech & Ph.D. in various relevant areas.
Name of the Association: ARTIOTZ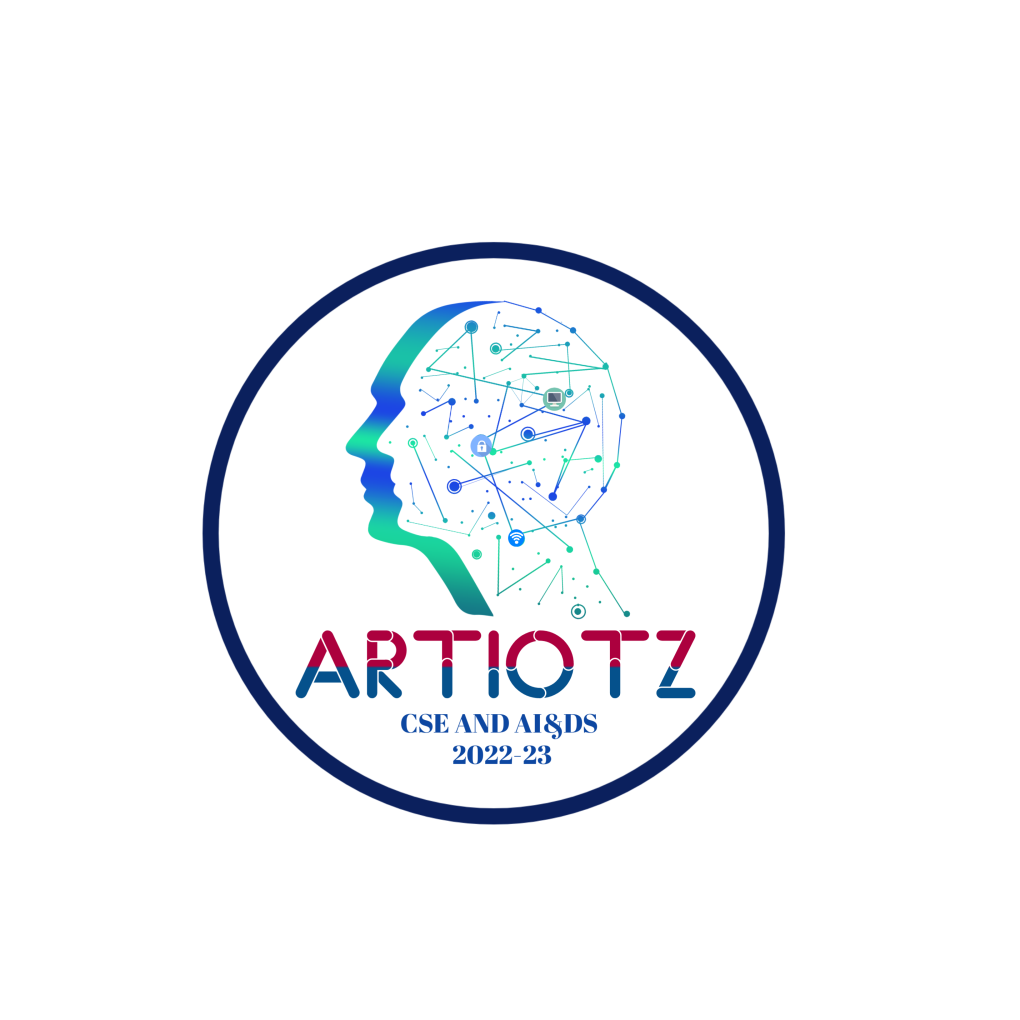 OBJECTIVES OF THE ASSOCIATION
The association aims to conduct meetings, discussions, seminars, workshops, presentations, and quizez.

To conduct technical events that can improve the skill sets and subject knowledge of the students in the field of Artificial Intelligence & Data Science.

To create a spirit of brotherhood and cooperation amongst the students of different classes in the department of Artificial Intelligence & Data Science.

To encourage and bring the members of the association to one platform where they develop the sense of responsibility among others.